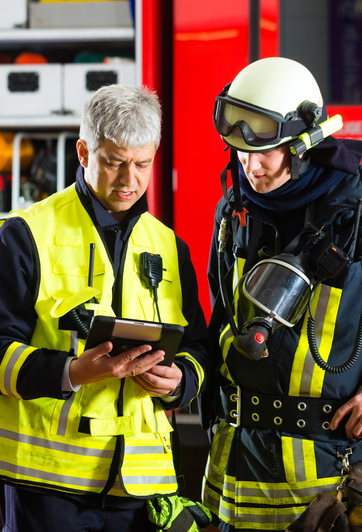 Benefits to the Fire Service
While the emergency service deals with the incident and provides whatever support is needed on the ground, EDSS will contact the property owner or resident and start working quietly and efficiently behind the scenes. In agreement with the Incident Commander, one of the first actions may be for EDSS to mobilise a contractor to secure a damaged property. This becomes one less task for the Fire and Rescue Service to undertake and means no time is wasted between identifying the action and completing the task. Once the incident has been satisfactorily dealt with by the Fire and Rescue Service, they are free to return to station secure in the knowledge that EDSS is dealing with the post incident support required by the community member.
EDSS Advisers understand what victims are going through and the sort of help they need. The advice they offer is simple, clear and unambiguous, outlining carefully what happens next and what needs to be done. EDSS provides support on everything they need, from emergency accommodation and reassurance, to perhaps providing a small emergency fund for essentials or arranging for more in depth expert guidance.
Calling EDSS means:
Fewer admin tasks, such as organising boarding up companies and contractors to install tarpaulin over the roof or even a full scaffolding 'tin hat'.
Reassurance that the individuals or families have support and guidance from a charity with experience.
With all the non-emergency matters taken care of by EDSS, fire crews are free to return to their station without delay.
If you would like to talk to EDSS about how we can help your emergency service to support the victims of residential or commercial incidents, then please call 0333 202 1019 or email enquiries@edss.org.uk.