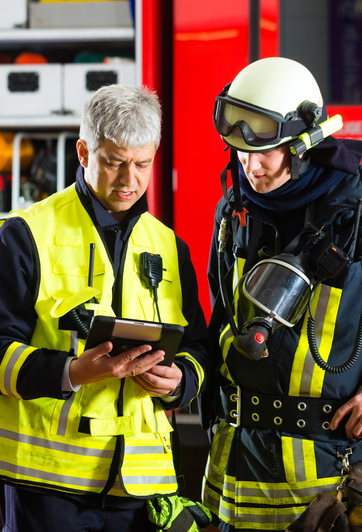 What we do
Immediate help, advice and action after fires, floods and other disasters
EDSS is a registered charity which delivers immediate support to members of the public once instructed by the fire service. This comes during the initial hours and days after an incident such as fires, floods and other disasters. EDSS' aim is to provide practical advice and assistance at this stressful time and help the individual regain control of their situation. We use all of our experience and knowledge with a view to making people feel they have someone to turn to with everything they have to deal with and to help set them on the road to a speedy and efficient recovery.
For individual members of the community EDSS' specialist advisers offer practical help in the initial hours and days following the incident.
For the Fire and Rescue Service we are a resource that offers practical actions when necessary to support the crews' timely return to station from an incident scene.
In particular we can facilitate:
The securing of property
EDSS instructs boarding up companies and locksmiths to secure the property as required.
Finding emergency accommodation
For people whose home is uninhabitable, we help to find temporary emergency accommodation such as local hotels or guest houses, and arrange transport to take them there if required. For business owners, we help to find emergency business premises so they can resume operations as quickly as possible.
Contact and immediate action
Finding and communicating with the right parties is not always easy and can take time. Whether you are dealing with Local Authorities, Housing Associations, difficult to find Landlords or Insurers, the EDSS adviser will give advice and help to steer individuals in the right direction. Reporting a house fire presents many more pitfalls than a leaking radiator and Housing Association/insurance company emergency helpline staff benefit from measured and coherent information in order to minimise stress and delay for the community members effected. EDSS advisers have the skills and experience to ensure we get to the right people with the correct information.
Advising on next steps
What can appear to be simple and uncomplicated next steps, to the individual caught up in the incident can seem insurmountable barriers. For people who suffer the consequences of a major incident, one of the first causalities can be the feeling of loss of control. This often leads to poor decision making and escalating stress. We look to restore that control by providing clear, simple and unambiguous advice and support.